Before getting too involved with social media, it's a great idea to set goals for what you'd like to accomplish. Marketing a business on social media makes good sense, but it's not easy. Managing a social media account takes time, patience and perseverance. So, it's important to set goals and analyze your efforts. How do you know you've gotten where you want to go if you don't have a goal or a plan?
One of the first questions I ask potential clients is:
What do you want to accomplish with social media?
Sometimes, they don't know the answer. Sometimes, small business owners "know" they need to be on social media, but they don't know why. Other times, potential clients have an immediate answer. Not everyone wants to use social media for the same reason. Some businesses use it to generate leads, others  want to strengthen their brand. You may even have different objectives for each of your social media platforms.
Start by defining what it is that you're trying to accomplish with social media (your objective), then create relevant goals.
Here are some ideas if you're struggling with where to start:
Customer service: When you're aiming to use social media as a customer service platform and to communicate with clients, set goals with these elements in mind:
• Response rate
• Engagement
• Support tickets
Branding: If your objective is anything brand related such as improving brand consistency or reaching a new demographic, then your goals may revolve around:
• Content
• Outreach
• Followers
Lead Generation:
• Clicks to your website
• Traffic to a retail location
• Collecting email addresses
Download the Social Media Goal Setting Worksheet  to help you determine your objective.
Now, go back and look at the list. Narrow the list down to the 3 most important to you.
Next, create your goals. There are many different strategies for creating goals, but the one I like to use is the S.M.A.R.T. strategy. You have probably heard of it.
Setting Goals
Setting goals gives you a purpose for your actions. By setting a goal, we can develop a plan for the actions we will take. When you reach a goal that you have set for yourself, you will feel a sense of accomplishment.
Goals must be S.M.A.R.T.:
• Specific
• Measurable
• Achievable
• Realistic
• Have a specific time frame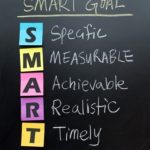 A goal must be specific and have a measurable outcome otherwise, you will never know when you have reached the goal. When you have a specific goal, you immediately begin to think of actions that need to be taken to reach the goal.
The goal must be achievable – common sense really, because if it is not possible to achieve the goal, then why try to reach it?
The goal must be relevant – does the goal have the potential to impact your business objectives, vision, or values.
By setting a time frame, we have reference points for the beginning and end of our action steps. If we have not reached the goal by the end date set at the beginning of the process, we are able to evaluate why we weren't successful.
Here's an example:
I will gain two new clients in 90 days.
S- specific 2 new clients
M – measure the number of clients
A – attainable if I network and follow my marketing plan
R – yes, new clients means more revenue
T – 90 days to reach the goal
Tips:
It is important to write your goals down on a piece of paper. The physical act of writing down the goal ingrains the idea in both our conscious and subconscious mind. Display the goal where you will frequently see it and remind yourself of the goal on a regular basis.
Set a few easy to achieve goals and work your way towards your long term goals. If your goals are too hard to achieve, you will have difficulty sticking to your action plan.
Keep a positive outlook. Reward yourself when you reach a mini-goal that leads to a larger goal.
Realize the obstacles you may encounter ahead of time and have some possible solutions in mind to overcome the problems – do not let them stop you from achieving your goals.
An example:
Here's an example using Facebook account growth. If you want to increase the engagement rate of status updates on your Facebook page, it might look like this:
• Specific – Who? What? Why?
• Increase engagement because Facebook is a network our target market uses consistently.
• Measurable – Choose a specific metrics to look at to determine growth
• Attainable – Make sure the numbers are realistic
• Relevant – Does growing your Facebook page support your business's objectives, vision, or values?
• Time Frame? – What deadline will you set?
Goal: Increase engagement (likes, comments and shares) on my Facebook page by 25% in 3 months.
Next Steps:
The next step is to create a task list of action steps you will need to take to reach your goal.
Finally, once you've implemented the action steps and come to the end of the time period, it's time to look at the numbers or analytics to determine if you've reached your goal.
photo credit:
Copyright: kenishirotie / 123RF Stock Photo
If you like this post, you might like these related posts::