There comes a time when you know you need help with marketing, but don't know where to start. What should you look for in a marketing pro and how do you choose the right one?
A recommendation from a friend may sound good, but you still aren't sure if they're the right fit. Every business is different after all and yours has specific needs in marketing.
To simplify the process, use our tips to find a marketing pro or consultant who'll help you reach your goals.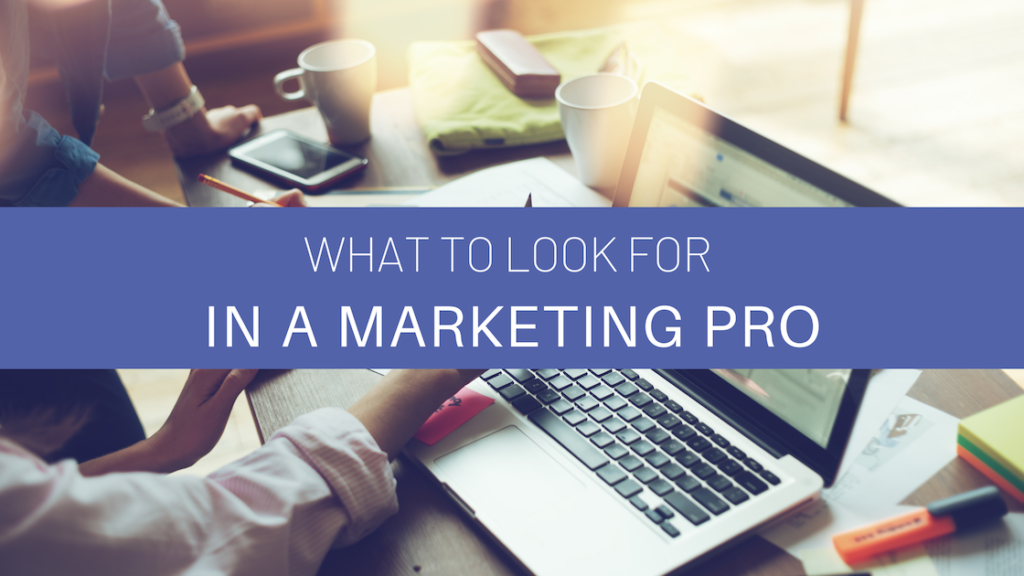 First, what are your goals?
We often follow the adage to "begin with the end in mind." For most business owners, that end goal is to increase sales. So how will you do that with marketing? Do you have an online business and want to increase web visitors who might buy? Or do you have a service business and want to see more local leads?
Having a defined goal – the more specific the better – will help you stay the course as you find the right person.
What kinds of marketing expertise should you look for?
At this point, we're supposed to say: look for someone with the specific marketing skills you'll need to reach your goal. But what if you don't know which skillset is best?
There are at least a dozen subspecialties in marketing, from content marketing and event marketing to social media, video, direct mail and much more.
Obviously, this isn't a one-size-fits-all type of service. In fact, if you give a marketing challenge to 5 different marketers, you're likely to get 5 different plans.
That's because experienced marketers use a combination of tactics to succeed.
It's not uncommon for us to use email marketing, social media, paid ads and SEO for one client. We can make them work well in one effective plan. The key is getting the tactics to work together smoothly and that will depend on the marketer.
In our experience, small businesses benefit most from these marketing skills:
Email marketing
Content marketing
Social media marketing
Data analytics and reporting
Search Engine Optimization or SEO
Video marketing
Digital advertising
Understand that each area above is a subspecialty in itself. Most marketers will have strengths in certain areas, but they should at least have a good understanding of the others.
Related: Which Marketing Tactics Should You Start with First? An Action Plan
Character matters too
Let's not forget the marketer's character and outlook. We feel it's just as important as their skillset if you're going to work well together.
Here are top characteristics to look for in a good marketer:
Strategic thinking and the ability to build strategies that are creative and unique to each business. (One of our strengths! ;))
Great communication and time management skills.
Familiarity and ease with technology for digital marketing.
Honesty and strength to tell clients what will work as much as what

won't

work.
Analytical ability to assess results and adjust plans for the best outcome.
Their style of communication also matters. Do you want to work with someone who provides a general action plan then gets it done with minor oversight from you? Or would you rather work with someone who gives you frequent updates on a step-by-step plan? Look for someone who aligns with your preferred style.
Can they deliver?
You'll have to dig a little more to find out if the person can deliver the results you need.
A perusal of their website will give you an idea of a marketer's skillset and past work. You should also ask about results they've achieved that are in line with your own goals.
You'll want someone who has delivered similar results for others and has samples of past successful campaigns. An experienced marketing consultant will have work samples available on their site or by request.
Once you speak to the candidates you have in mind, you might get a better feel for their work style and their possible approach to your needs. You might even see if they have some of the characteristics we mentioned.
What about experience in your industry?
Although it's not vital, there are pros to finding a marketer with experience in your industry. They will be familiar with the standards, terminology and needs of your business and may be able to get to work more quickly. But we wouldn't consider this a deal breaker. An outside perspective might even lead to new ideas that aren't typical in your niche.
Ask for a free consultation
We understand it can be a challenge to find professional marketing help, especially if you're not sure exactly what you'll need.
That's why we offer a free consultation. It's a no-risk way for you to get a professional opinion on your marketing options.
Ask for a free consultation with Kelly to explore the possibilities.
Or let us know below if you have any questions.
If you like this post, you might like these related posts::