Know why people like social media so much? Because it gives them a sense of belonging and connectedness. This is from a study by the University of Queensland's School of Psychology.
Yet many contractors and small business owners avoid social media. And the ones who don't avoid it, still don't like it.
There's a reason for that.
We're used to getting immediate results when we spend time or money on a business promotion. If we run an ad, announce a sale, or even host an event, we like to see results, meaning sales, right away.
But social media is a long-term play.
That's why the "contact us for a quote now" posts don't bring results. They look and sound like ads and people don't want to engage with ads. They want to engage with people, including business people.
This means you should join the conversation online in a friendly, human way.
How to join the conversation online
You know those clients you've had for so long they've become friends? The ones who, when you see them, you answer their questions, give them advice, ask how their family is doing and maybe joke around a bit?
This is how you should speak to social media followers online. Like old friends.
Top post ideas for contractors
Here are a few ideas for the types of posts that do well for general contractors and small businesses in the home-service trades.
1. Make them laugh
Jokes and memes provide the comic relief we all love on social media. And this isn't limited to personal accounts. Funny stuff from businesses is welcome too.
Nothing wrong with a little humor about working as a plumber, electrician or contractor. As long as you're not making fun of clients, your fans will laugh with you… and they'll remember you for it.
Here's a carpenter meme example:
2. Teach them something new
Explainer posts or videos are great ways to show and share your expertise.
Use a photo or a video to show your point. If you're on Instagram, you can also make a carousel post (multiple photos to swipe through in one post). They're a great growth hack on Instagram and good for educational content.
A few ideas for educational posts:
Electrical safety
How to avoid clogging your plumbing
New trends/colors/materials that are easier/prettier/safer
Myths about _____
When to do it yourself and when to hire a pro
How to do easy fixes (or maintenance) yourself
Wait, you want me to teach DIYers? 😱
You may be surprised to see DIY ideas on the list above. We know what you're thinking: "Why should I teach them how to do it instead of hiring me?"
The same reason why famous restaurants are willing to publish their recipes. They know home cooks won't be able to recreate the dish at the same level as their professional chefs. And they gain goodwill by being willing to give. Speaking about giving…
Giving is part of today's online culture
We don't mean giving to charity (that's good too, obviously), but giving to your customers and prospects. Being open, transparent and willing to share your expertise goes a long way towards gaining trust and goodwill online.
Here's an example from Austin Flohr, a flooring store in Austin, which posts facts, tips and educational content on its Facebook page.
3. Post photos to get attention
There are entire social media sites built around photos (hello Instagram and Pinterest) so it's clear that fans love them.
Post photos of what, you ask? Here are a few ideas that are popular with fans:
Before & after photos
Mid-progress shots
Behind-the-scenes photos
An unusual or creative setup / project
Customers with their new home/kitchen/item
You or an employee on the job
Here are examples of mid-progress shots on Facebook from Double R Builders in Austin, Texas.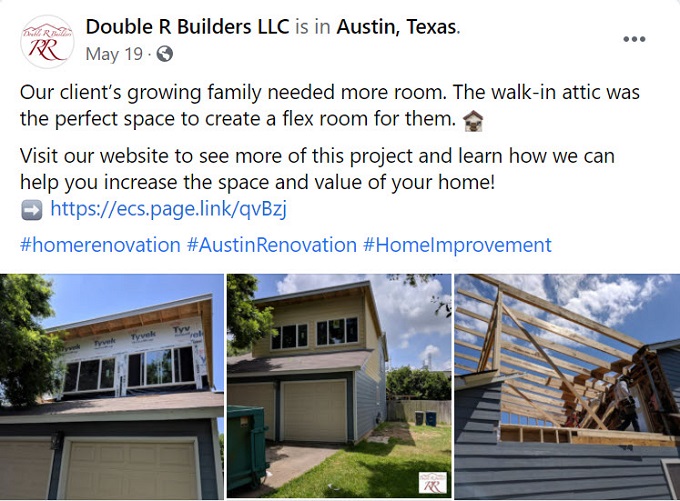 4. Use video to grow your accounts
Video is one of the easiest ways to get attention on social media. Sites like Facebook and Instagram prefer video posts and give them a little more visibility, so it only makes sense to use video when you can.
You might be thinking it's too complicated, too expensive or too strange to show yourself on camera.
But it might help to know that your fans aren't expecting professionally shot videos from you. Sure, professional videos look good, but they also tend to look like ads and that's something we want to avoid.
So go ahead and use your smartphone to create videos. Short videos under 1 or 2 minutes are best. Keep in mind photos can also be turned into videos. Stock video clips are available as well.
Pool and landscape designer FoxTerra Design gets a lot of attention by showcasing its work on Instagram. Here is a recent video.
4. Show your work
Of course you'll want to show your work online. Post photos and videos of some of your more interesting jobs on Facebook, Instagram and others.
If you're a home builder or remodeler, one of the best places to showcase your work is Houzz. Here you can post photos or videos (high-quality is best here), show customer reviews and connect in the comments with homeowners who admire your work.
Click to see this Houzz profile for Reed Design Build, which is a good example.
5. Highlight employees
Featuring your employees or showing them at work is another way for fans to get to know you and your business. People like seeing and hearing about others, so don't be afraid to get personal with your business posts.
Here's a video example from Whitmore Pest & Wildlife Control on Facebook:
6. Shoutouts to subcontractors or partners
Shoutouts are a great way to show your appreciation to subcontractors and others who do a great job. And it reminds fans you work with an A+ team.
7. Highlight happy clients
Showing happy customers and their reviews is always a good thing. Even better if it's on video. Praise from customers validates your work in the eyes of prospects and helps build trust.
Treat your fans like friends
Treating your fans like friends will help build trust and likeability so people will call you when they need you.
So keep at it with social media and try to use posts that will be more interesting to your followers. It may be hard to wait for the long-term results, but the benefits are worth it!
Let us know if you need help promoting your business online or have questions. Send us a note or leave a comment below.
(Note: The social media posts above are used as examples only. Copyright for the images included in this article are held by the respective businesses mentioned.)
If you like this post, you might like these related posts::