A picture is worth a thousand words is an idiom that refers to the notion that a complex idea can be conveyed with just a single image or that an image conveys its meaning more effectively than a description does.
This notion is proven by the popularity of such social media sites as Facebook and Instagram. On Facebook, status updates with images or video get significant more engagement than those with text alone. Instagram is entirely made up of images and videos and continues to grow in the number of users worldwide.
Here are a few examples of the types of images you could use in social media posts:
infographics
single image with text overlay
carousel of images
layout allowing for multiple images in one image
personal photos
behind the scenes shots of your workplace
before and after job photos
quotes with an image
original designs
photos that reflect your brand
High quality photos and video tend to get more engagement (likes, comments and shares) than lower quality ones. If you look at Facebook insights at the reach and engagement rates for image posts versus text posts, you will notice that posts with images have higher numbers – videos perform even better.
Use original photos that are unique and relate to your brand's message. A photo that can tell its own story is even better!
Even if your business doesn't lend itself to photos, like a service based business, with some creative thinking, you can create images that will engage your audience.
Examples
Text over a background
Quotes, either well-known or your personal quotes, work well when text is overplayed over a background. The background can be plain or not, but eye-catching either way.
Use quote images for communicating a specific message:
Inspirational quotes
Attractive headlines
Intriguing excerpts (e.g. from a blog article, book)
https://www.instagram.com/entrepreneur/
https://www.instagram.com/smexaminer/
Adding text on top of a picture is particularly useful when using stock photography. Many publicly-available images are repeatedly used, so posting the photo by itself is often not catchy enough. This example from shows how easy it is to make a generic photo stand out by adding a headline.
https://www.facebook.com/CCHIcertification/
Add some color to a stock photo with a blog or article headline :
https://www.instagram.com/simplificationservices/
Use personal photos or photos that reflect your brand
https://www.facebook.com/mollymgalbraith/
Before and After images are perfect to showcase the differences that take place by using a particular service or product offered by businesses such as interior decorators, painters, and flooring installers. Don't forget hair stylists, makeover artists, and orthodontists.
www.glamourflooringla.com
Information graphics or infographics are graphic visual representations of information, data or knowledge intended to present information quickly and clearly. Present information to your followers in an eye-catching way while still informing of them of valuable information.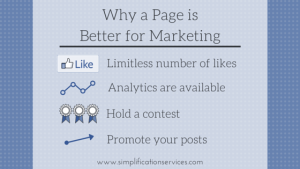 As you can see, there are so many types of images that can be used to increase engagement on Facebook and Instagram. Most of the time, images can be created in minutes using tools such as Canva or PicMonkey.
What kind of images have you seen that catch your eye or get a lot of engagement?